MARYLAND'S CONCRETE LIFTING SPECIALISTS
Does your driveway, sidewalk, walkway, concrete steps, or patio have problem areas where sunken concrete has caused uneven surfaces and tripping hazards to form?
The company you hire to fix it needs to be highly skilled. They need to be affordable. And they need to provide a quality service.
Oriole can fix your uneven and sunken concrete problems with concrete lifting and leveling, a fast and affordable solution.
We guarantee we'll provide an honest, accurate quote for the work. Thanks to our experience, we know exactly what is needed and will communicate to you exactly what the solution should be. You'll feel empowered and won't have to worry about being taken advantage of.
As a family-run business for 3 generations, we know the importance of reputation. We're proud of the quality of our work, and our customers seem to appreciate it too as we currently have a 4.8 out of 5 star rating on Google Reviews.
We'd be honored to help you get your basement dry and keep it that way. Give us a call at 410-879-3360 or use the form to get in touch.

CONCRETE LIFTING AND LEVELING SERVICES
Concrete repair through concrete lifting is quickly becoming a great alternative to completely re-doing your driveway, sidewalk, patio, or any other concrete at your home or business.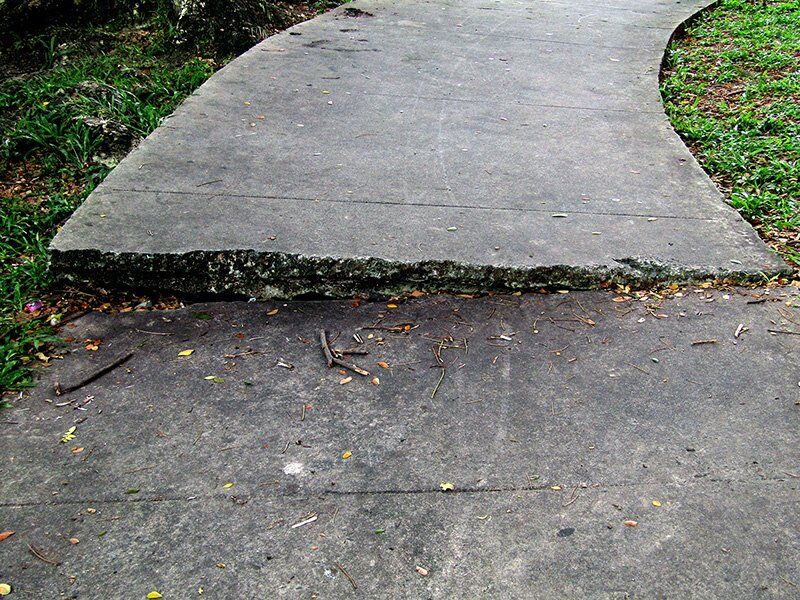 Sinking sidewalks, driveways, and steps aren't just unsightly eyesores – they can quickly turn into safety issues!
People can easily trip and fall – and falling on hard concrete could lead to potentially an injury or liability issue.
However, completely tearing out and replacing existing concrete can be timely and expensive!
Oriole Basement Waterproofing's concrete leveling service provides a cost-effective, fast, and convenient alternative.
How does it work?
There are three stages to leveling your existing concrete.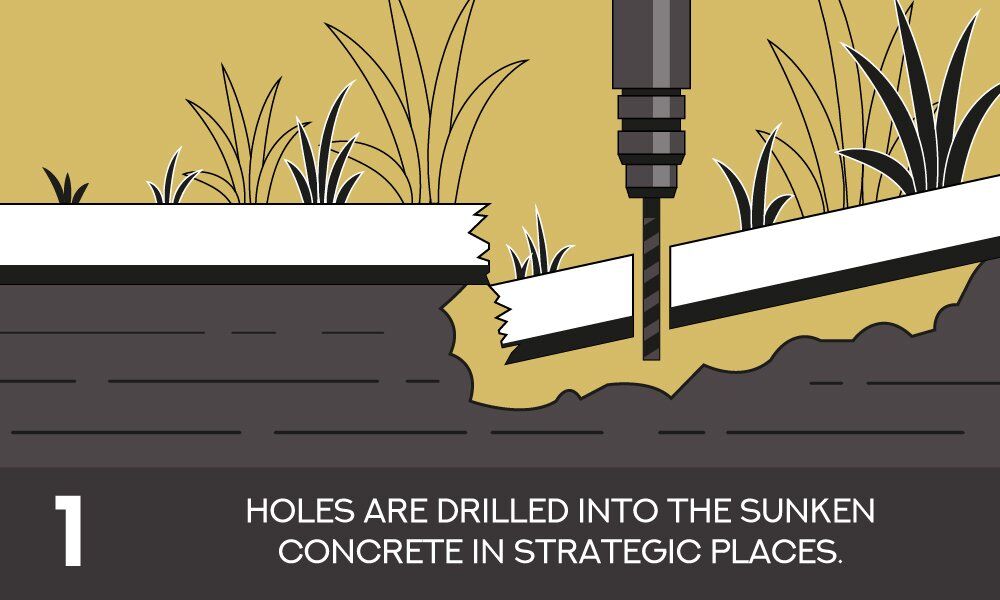 First, we drill into strategic places in the existing sunken concrete.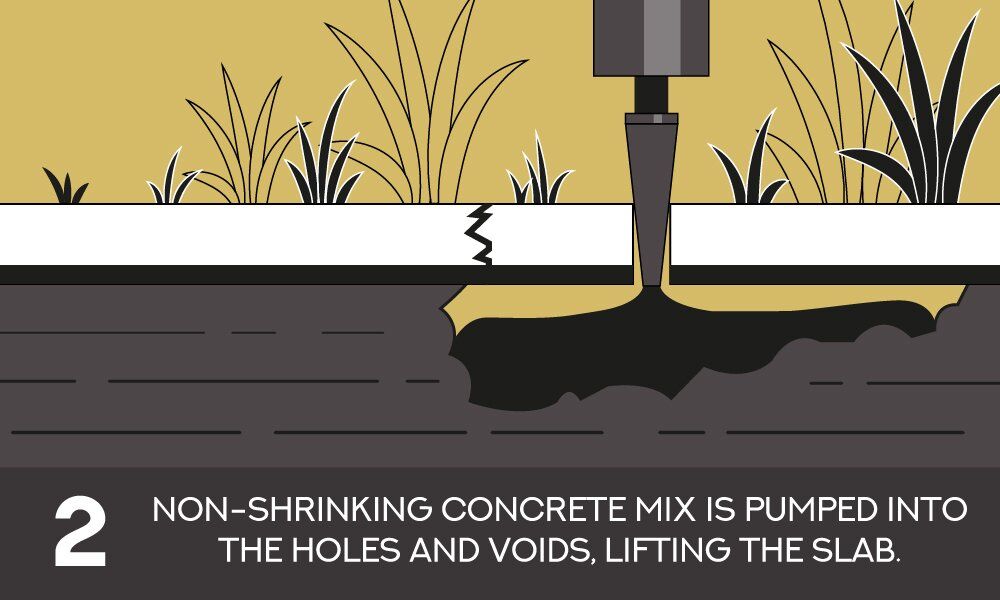 Next, a polymer foam mixture is injected beneath the concrete, lifting the slab back up.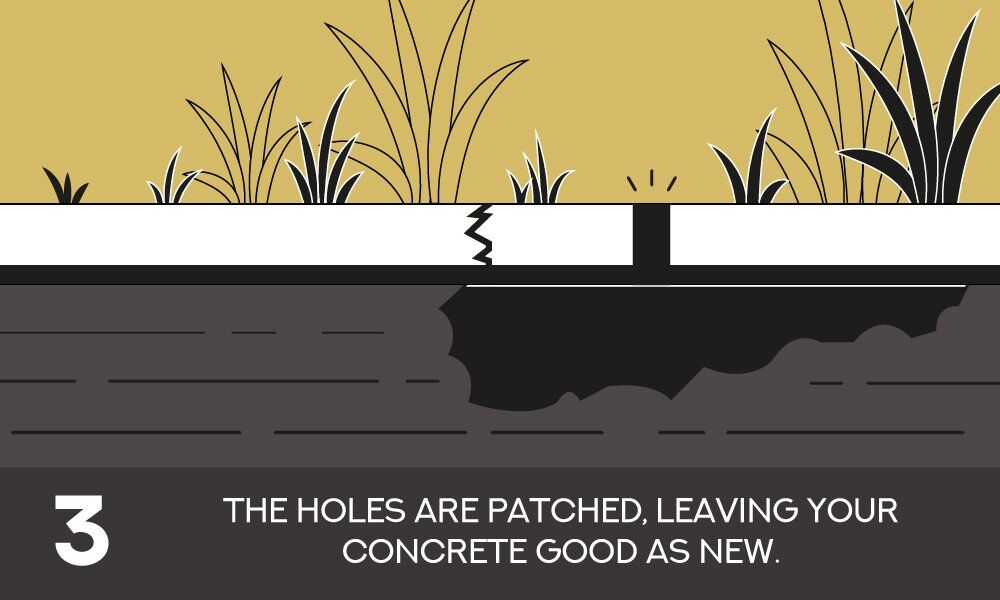 Finally, we patch the drill holes, and your concrete is left looking good as new!
Why should you get your concrete repaired by concrete lifting and leveling?
Uneven concrete:
is a tripping/injury hazard!
lowers the value of your home!
causes drainage and runoff problems, potentially leading to even costlier issues!
is unsightly and an eyesore!
Concrete lifting is a great and much longer lasting alternative to mudjacking. By using a specialized polymer foam, this solution will last much longer while being extremely cost-effective! The foam is waterproof and also non-toxic, so it creates a barrier to moisture without releasing harmful chemicals into your soil.
And it's fast, too! Your concrete can be repaired in only one day, compared to the many days and much higher cost it would take to completely tear out and re-do your existing concrete.
GET IN TOUCH WITH ORIOLE TODAY
When it comes to uneven or broken concrete, the problem can only get worse the longer you wait to take action. Don't let the issue get out of control!
Call us today at 410-879-3360! Or fill out the contact form.

Maryland's OLDEST basement waterproofing company
MHIC #4247 – we're a year older than the baseball team!

Family-owned and operated for 3 generations! We have over 65 years of experience and knowledge working in Maryland homes and businesses – we are experts and there's nothing we haven't seen!

Lifetime, transferable guarantee with every waterproofing job we do!

Flexible availability and rapid responses to handle your water issues as soon as possible!