Fun fact: Oriole Basement Waterproofing was created one year before the O's came to town!
Our founder, Frank Pirog Sr., was a bird enthusiast and named the company after his favorite bird, the Oriole bird (MD state bird).
To this day, our family are true bird lovers and we proudly root for our O's!
We are the oldest waterproofing company in MD; 65+ years of experience; over 4,000 jobs completed!

Our founder, Frank Sr., first learned of basement waterproofing when his own basement flooded in the very early 1950's.
Good waterproofing companies were a rare breed at the time, but Frank managed to find someone to do the job. This is when he first discovered all that waterproofing entailed; he took an interest and watched as the work was being performed.
Frank Sr. was intrigued and saw a great opportunity. There were many older homes in Maryland that had the same water issues, and basement waterproofing companies were hard to come by.
Frank at the time was in the boat and motorcycle business, yet he couldn't ignore this new calling. So, he decided to take a leap of faith to transform his career path and started a basement waterproofing company.
ORIOLE'S BEGINNING: FRANK SR.
Frank Sr. started the basement waterproofing company in 1953.
It was a family-run business from the very start. His sons, Frank Jr. and Brian, grew up working for the business.
The company was a success right from the beginning, and Oriole quickly became the #1 waterproofing company serving Harford and Baltimore County.
As the business continued to grow through the years, Frank mentored his son, Frank Jr., so that Jr. could successfully take over the company one day. Frank Sr. taught his son everything there was to know about the business, and they worked side by side until Frank Sr. retired in 1995.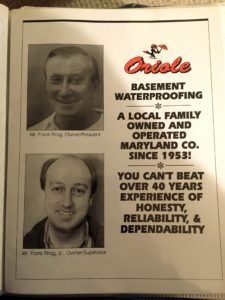 ORIOLE 1996-2016: FRANK JR.
Frank Sr. went on to enjoy his retirement, and his son, Frank Jr., assumed ownership of the company. Oriole then became a second-generation family-owned company.
Frank Jr. evolved the business and took Oriole Basement Waterproofing from running two full-time crews to running five full-time crews.
In addition, Oriole expanded their coverage to include Cecil County, Howard County, Carol County and Ann Arundel County.
While the company grew, the core company values and family business atmosphere remained the same.
Similar to his own upbringing, Frank Jr.'s son, Frank III, grew up watching his grandfather and father run the business. Frank III couldn't wait to start working for the family business, so Jr. allowed his son to begin working at age 14.
Frank III spent years working with the crews during his summers off from school. He earned the rank of a skilled laborer in high school and then foreman right before graduating. Frank III began selling for Oriole while he attended college at University of Maryland. Frank III was his father's right-hand man. And just like Frank Sr. taught Jr., Frank Jr. taught his son all the ins and outs of waterproofing and running a business.
In January 2016, we lost Frank Jr., a beloved father, son, and friend. We miss him dearly and we are grateful to have been able to work alongside him. Oriole would not be what it is today without him.
Frank III is now the owner of Oriole Basement Waterproofing. He knew at a very young age that this was his calling and he is proud to be following in his father's footsteps.
Oriole is now a third-generation family-owned business. And although 65 years have passed, Frank III shares the same deep level of passion and commitment that his father and grandfather had for Oriole's customers and employees.
Frank is now accompanied by his first cousin and father's nephew, Mark Michael. Sharing the same experiences as Frank of growing up and seeing the daily operations of the family business, Mark decided to join Frank III to expand the company upon the solid foundation of its deeply-rooted family values, dedicated customer service, and quality workmanship.
It's very important to us at Oriole that we continue to keep our grandfather's dream alive and work tirelessly to make him proud of the new chapter we are creating with Oriole Basement Waterproofing.
"Like father, like son" has always had a special meaning to Oriole. I think we all know what's going to happen next…!
What we do know for certain is this:
As a third-generation family-owned waterproofing business, our mission is to continue to bring dry basements to the Maryland metropolitan area and expand our services to help even more people today, and in the generations to come, in the great area we call home.
Here at Oriole, great knowledge has been passed down from one generation to the next. Our business evolves with the changing times, but our core values remain unchanged.
We serve customers in the exact same manner that we would our next door neighbors and family. We view all of our customers as neighbors and Oriole provides an exceptional customer experience, communicating with you every step of the way and delivering the absolute highest level of workmanship.
We take great pride in the company we have built and stand behind everything we do.
GET IN TOUCH WITH ORIOLE TODAY
When it comes to wet basements, the problem can only get worse the longer you wait to take action. Don't let the issue get out of control!
Call us today at 410-879-3360! Or fill out the contact form.

Maryland's OLDEST basement waterproofing company
MHIC #4247 – we're a year older than the baseball team!

Family-owned and operated for 3 generations! We have over 65 years of experience and knowledge working in Maryland homes and businesses – we are experts and there's nothing we haven't seen!

Lifetime, transferable guarantee with every waterproofing job we do!

Flexible availability and rapid responses to handle your water issues as soon as possible!

Financing options available! Talk to us for more information!