When you are dealing with a leaking basement, indoor mold infestation, cracked foundation, or window damage, you know you need a solution fast.
The company you hire needs to be highly skilled. They need to affordable. And they need to provide a quality service.
Oriole has been dealing with window and foundation repairs, mold remediation, epoxy flooring installation, and waterproofing basements longer than any other company in Maryland. We have seen and done it all, and our skill and knowledge is unmatched in our industry.
We guarantee we'll provide an honest, accurate quote for the work. Thanks to our experience, we know exactly what is needed and will communicate to you exactly what the solution should be. You'll feel empowered and won't have to worry about being taken advantage of.
As a family-run business for 3 generations, we know the importance of reputation. We're proud of the quality of our work, and our customers seem to appreciate it too as we currently have a 4.8 out of 5 star rating on Google Reviews.
We'd be honored to help you get your basement dry and keep it that way. Give us a call at 410-879-3360 or use the form to get in touch.

Oriole Basement Waterproofing is committed to providing the highest quality service when it comes to keeping your basement dry. We also offer additional crucial commercial and residential services, including window repair, waterproof epoxy flooring, sump pumps and battery backups, mold remediation, and foundation repair.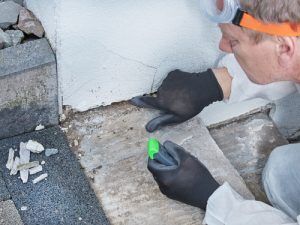 Oriole will schedule an appointment that is most convenient for your schedule to provide an overall assessment of your property.
An inspection of the interior and exterior of the property will be included to properly address your concerns. Once the problem is determined, a custom solution will be tailored to fit your home's specific needs.
Professional estimates are provided at the time of the appointment and repairs will be scheduled to fit your desired timetable of completion.
Call us today at 410-879-3360 to receive a free inspection! Or fill out the contact form.
Oriole Basement Waterproofing is proud to be Maryland's oldest waterproofing company servicing Harford County, Baltimore County, Cecil County, Howard County, Baltimore City, Anne Arundel County, and Carroll County.
Oriole has proudly served the Harford, Baltimore, Cecil, and Howard counties – especially the Bel Air, Dundalk, and Lutherville-Timonium areas – since 1953.
Some of Oriole Basement Waterproofing, Inc.'s most prominent areas of service include the communities of Lutherville-Timonium, Mays Chapel, Towson, Hunt Valley, Sparks, Glen Arm, Hydes, Jacksonville, Monkton, Phoenix, Parkton, Baldwin, and all surrounding municipalities in Baltimore County.

Basement Waterproofing And Other Services In The Lutherville-Timonium Area
The Lutherville-Timonium area homes in particular have a unique set of problems which require different solutions to repair the problem at hand. Some basement water problems can simply be resolved by grading the slope of the landscape and extending the downspouts to redirect the water away from the foundation. Other problems require a different approach.
This is because the age of the neighborhoods in the Lutherville-Timonium area vary significantly, and thus require custom drainage and waterproofing solutions.
Considered a historic district, some of the homes built in Lutherville date back to as early as 1852. Each home is structurally unique, requiring a unique waterproofing approach for homes affected by basement leaking and water intrusion.
The foundations in the Lutherville-Timonium vary greatly – from stone, brick, cinder block, and poured concrete – depending on the age of the home and the builder.
Oriole Basement Waterproofing has vast structural experience in all building scenarios, such as in the historic Lutherville-Timonium area, and offers custom solutions for any type of foundation.
If left unresolved, basement waterproofing problems in the Lutherville-Timonium location eventually lead to more complex issues such as mold growth and structural problems.
Allow our licensed service professionals to determine the best solution to meet your home's needs. Oriole Basement Waterproofing's technicians are extremely familiar with the basement waterproofing problems that occur in the Lutherville-Timonium area and we have the most invaluable investigative tools and materials to inspect and resolve each individual property's unique problem.
If your property resides in the Lutherville-Timonium community or surrounding area, Oriole's unmatched experience and professionalism in the field will not only meet but also exceed your expectations.
ORIOLE NAMED "BEST OF BALTIMORE"
Each year, the City Paper focuses on one specific industry and ranks all of the contractors in that industry. For example, one year they might rank electricians, the next plumbers, the next roofers, and so forth.
In 2007, the City Paper ranked Basement Waterproofing Companies and Oriole Basement Waterproofing, Inc. won the "Best of Baltimore" award.
Below is the City Paper article excerpt from 2007.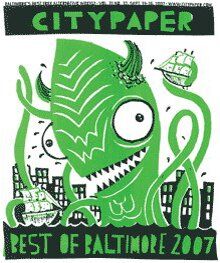 "Getting someone to work on your house for a reasonable price–and without dragging the project out twice as long as planned–is pretty much a miracle. And after researching and interviewing waterproofers, the odds looked worse. We got estimates all over the map, conflicting information about the only way to do it, people we almost had to physically eject from our house because they wouldn't leave unless we signed a contract for some crazy system. It was awful. And then we talked to Oriole Basement Waterproofers. The pitch from this local, family-owned and -operated firm was clear, concise, and within our budget. They offered a lifetime warranty–not our lifetime, mind you–a completely transferable warranty for the lifetime of our more than 100-year-old house. And this isn't some fly-by-night operation that will shut down and leave your warranty useless. Oriole has been around so long it predates the major-league baseball team whose name it shares; the company was named after the state bird. Oriole did the work quickly and with consideration for our home. And best of all, our once perpetually flooded basement has been bone dry ever since."
Oriole is a local, family owned business that was established in 1953. We are the oldest waterproofing company in MD; over 4,000 jobs completed!
Our business evolves with the changing times, but our core values remain the same. We take pride in our quality workmanship, and serve our customers in the exact same manner that we would our next door neighbors and family.
Click here to read more about our company's history.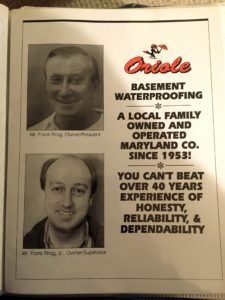 GET IN TOUCH WITH ORIOLE TODAY
Whether it be a crack in the foundation, a leaking window well or stairwell drain, landscaping adjustments, or an interior drainage system installed along the inside perimeter of your home, Oriole Basement Waterproofing has the knowledge and ability to tackle the problem no matter the size and scope.
When it comes to these types of issues, the problem can only get worse the longer you wait to take action. Don't let the issue get out of control!
Call us today at 410-879-3360! Or fill out the contact form.

Maryland's OLDEST basement waterproofing company
MHIC #4247 – we're a year older than the baseball team!

Family-owned and operated for 3 generations! We have over 65 years of experience and knowledge working in Maryland homes and businesses – we are experts and there's nothing we haven't seen!

Lifetime, transferable guarantee with every waterproofing job we do!

Flexible availability and rapid responses to handle your water issues as soon as possible!

Financing options available! Talk to us for more information!