MARYLAND'S BASEMENT WINDOW REPAIR EXPERTS
When you are dealing with a leaky or damaged basement windows, you know you need a solution fast.
The company you hire needs to be highly skilled. They need to affordable. And they need to provide a quality service.
Oriole has been dealing with basement/egress windows and waterproofing basements longer than any other company in Maryland. We have seen and done it all, and our skill and knowledge is unmatched in our industry.
We guarantee we'll provide an honest, accurate quote for the work. Thanks to our experience, we know exactly what is needed and will communicate to you exactly what the solution should be. You'll feel empowered and won't have to worry about being taken advantage of.
As a family-run business for 3 generations, we know the importance of reputation. We're proud of the quality of our work, and our customers seem to appreciate it too as we currently have a 4.8 out of 5 star rating on Google Reviews.
We'd be honored to help you get your basement dry and keep it that way. Give us a call at 410-879-3360 or use the form to get in touch.

BASEMENT AND EGRESS WINDOW REPAIR SERVICES
One of the easiest places for water to get into your basement is through windows.
We often find leaky windows or rotting windows to be a major problem for our clients. Windows in the basement are great to allow more natural light in, and can even provide an escape route in case of emergency.
However, most older buildings often do not have proper drainage around the window which has allowed water to slowly eat away at basement windows over time and cause basement flooding.
Therefore, aside from repairing the leaky or damaged window, it is important to stop water from being able to damage the repaired window as well.
Oriole typically handles this issue by adding drainage near the window to direct water away from the window. You can see an example of an above-ground window with a small drain nearby: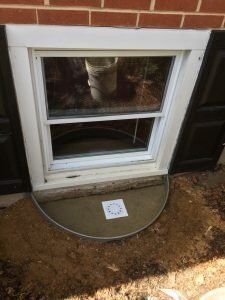 If you have an egress window and egress well (small cutout in the ground around the window to allow more light and space to escape in event of emergency), we can add drains to this as well like in this photo: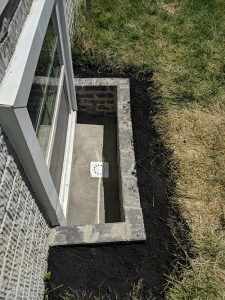 These drains are connected to the rest of your basement drainage solution, often allowing water to be collected and then pumped out to keep your basement nice and dry.
Beyond improving the value of your home, egress windows are necessary for any areas of the basement that are considered living spaces. These allow fast access for you to get out, but also for emergency personnel to get in should they need to. You'll want an experienced company like Oriole who know all of the building codes and can build proper egress windows for your home if you need to add one of these windows.
Another important consideration is making sure the grading of your land is sloping away from your home. This will allow more water to naturally flow down your land rather than collect near the entry-points of your basement, namely windows and doors. Oriole can help you handle this as well as other exterior waterproofing solutions to help keep water away from your home as much as possible!
It's important to keep your windows in good shape. Aside from leakage issues, a window with a loose or broken frame will also cause the basement to become drafty. You will lose money from rising energy costs.
If the window deterioration is bad enough to the point that there are larger cracks or holes, then insects or rodents might also find their way into your basement through your windows.
GET IN TOUCH WITH ORIOLE TODAY
When it comes to water issues affecting your basement or egress windows, the problem can only get worse the longer you wait to take action. Don't let the issue get out of control!
Call us today at 410-879-3360! Or fill out the contact form.

Maryland's OLDEST basement waterproofing company
MHIC #4247 – we're a year older than the baseball team!

Family-owned and operated for 3 generations! We have over 65 years of experience and knowledge working in Maryland homes and businesses – we are experts and there's nothing we haven't seen!

Lifetime, transferable guarantee with every waterproofing job we do!

Flexible availability and rapid responses to handle your water issues as soon as possible!

Financing options available! Talk to us for more information!